This recipe for Low-Carb Black Bean and Chickpea Burger is actually something that came about because of an intense web research, and throwing around a bunch of ingredients I had in my kitchen pantry. A couple of weeks back I went on a no-carb diet. Rice and pasta are my weakness and since my DH challenged me, I decided with an "I will show him" attitude to embark on this journey. It was not a strict no-carb diet, and I was also not doing it to lose weight. It was also a month long diet and although I was apprehensive, I made it alive at the end of it.
Almost everything in our Indian cooking is paired with some type of carbs. It was difficult to come up with up with new recipes day in and day out. I also did not want to eat non-vegetarian everyday for three meals, so my friend suggested that I make a bean burger.
As I researched online, I did not find any particular recipes I liked. So I picked out the basic ingredients from the online recipes and added my own flavoring. I have to say I was skeptical, but the Low-Carb Black Bean and Chickpea burger turned out great. It was soft, dense, hearty and very comforting. Even my girls enjoyed it. Hope you like the recipe. Enjoy!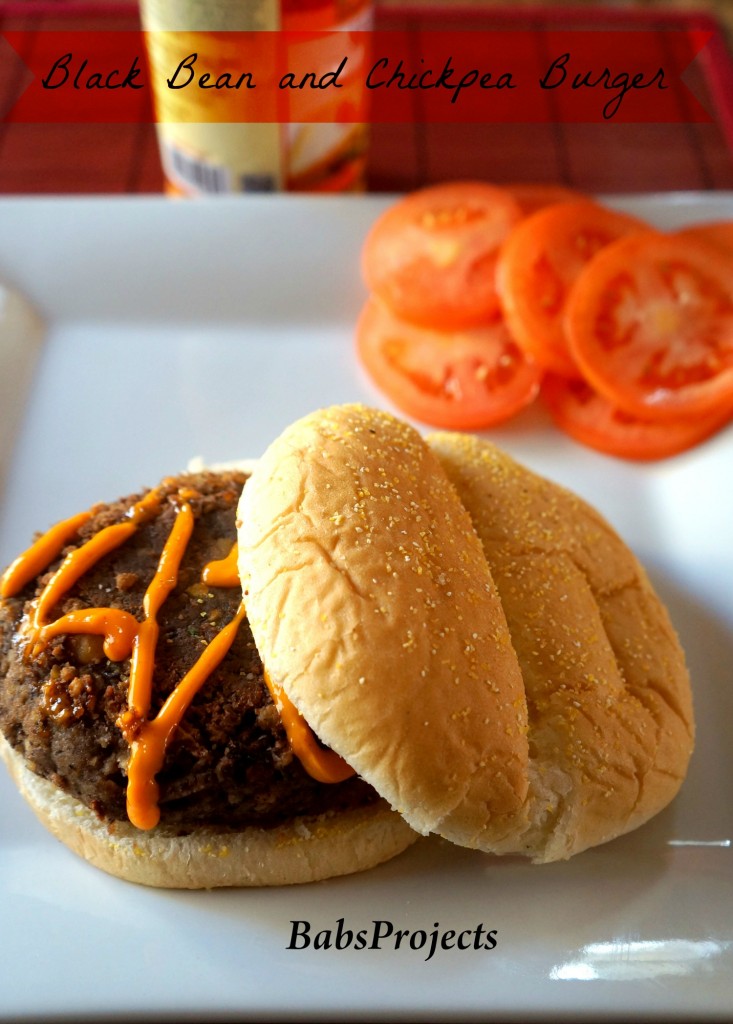 Ingredients:
1 can black beans
1 can chickpeas or garbanzo beans
1 chopped jalapenos (optional)
1 cup bread crumbs
1 cup quick oats
1 tbsp garlic powder
1 tbsp onion powder
1 tsp cumin powder
salt as per taste
Canola oil
Preparations:
Drain all the liquid from black beans and chickpeas. Rinse them thoroughly under running water.
In a food processor pulse the black beans and chickpeas for a minute until both are combined.
Transfer this into a mixing bowl.
Add the jalapenos, salt, oil, bread crumbs, onion powder, garlic powder, cumin powder and oats. Mix it well.
Take a little bit of the mixture and form it into patties.
In a frying pan, shallow fry these patties for about 5 minutes on each side. You can also bake them if you want to.
Remove and drain them on some paper towels.
Serve it hot with sriracha mayonnaise or any other condiments you like.
Full Disclosure: Since it was a no-carb diet for me I had the burger without the bread 🙂