Diwali Gift Boxes is the latest project I have been working on. Next weekend is Diwali and I am gladly looking forward to it. It is one of our most important festivals. Since it is the Festival of Lights, we jazz up the exterior of our house with lights (like Christmas). We clean our house to welcome Goddess Laxmi (Goddess of Wealth). We shop for traditional Indian clothes and jewelry. Mostly importantly we cook up a storm. We make all kinds of sweet and savory snacks.
Traditionally we share these snacks with our family, friends and neighbors. I follow these rituals every year and share all of the goodies with my close friends. However, finding good boxes to pack all the treats were a challenge. There are no specific boxes for Diwali and the ones that are available are extremely expensive.
So I decided to make my own. It was easier said than done. Finding plain white, right sized boxes proved to be challenging. I searched everywhere. I looked for them in Dollar Store, Walmart, Michaels and even Amazon.
Finally, I found some cake boxes in Party Fair. The size was perfect and exactly what I was looking for. When I saw those, I was thrilled and immediately purchased about 10 of them and brought them home. Best of all the boxes were only .29 cents each.
So like me if you were looking for gift boxes to pack Diwali Mithais check out below: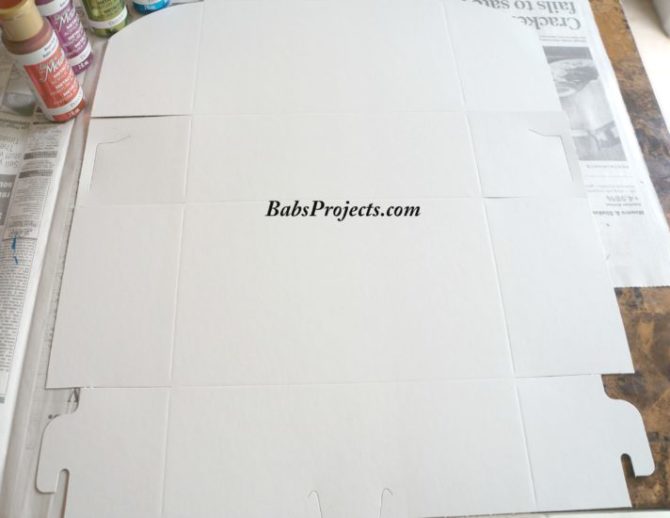 I am not very artistic, so it took me some time to come up with a design. I wanted a design which would be traditional but at the same time different. After looking around in my craft corner I found a stamp (picture below) which I thought would be a right pattern for this project.  I decided to use that. All I needed were some bright metallic acrylic colors. Fortunately I found a couple of them at Michaels.
I started off by painting the stamp with a metallic copper color paint first. I used this technique instead of a stamping with a stamp pad because I could not find any metallic colors pads. I am glad I did this technique because I loved the result I got with it.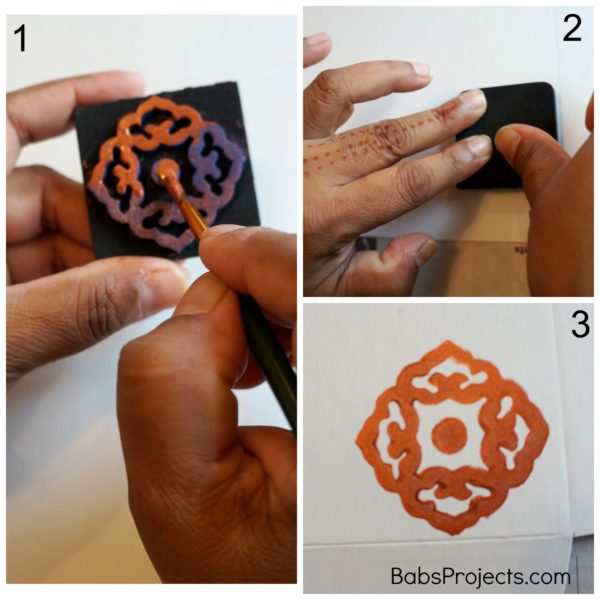 Isn't this pattern awesome? I stamped a couple of them on top of the box, on the sides and in the front. Since it is Diwali I had to add a bling factor to it. So I glued a couple of hot pink rhinestones and set them aside to dry.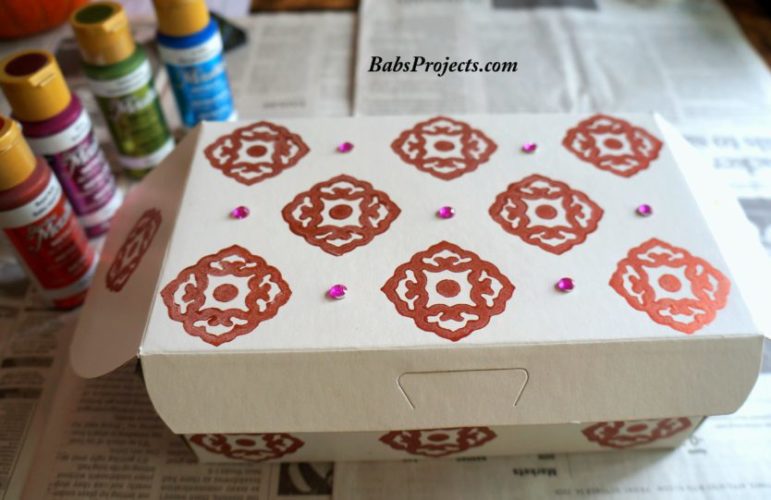 I did this with other boxes. Each time I used different colors including metallic fushcia, green and  blue. Even though it is not visible in the pictures, the metallic colors look gorgeous on the plain white box.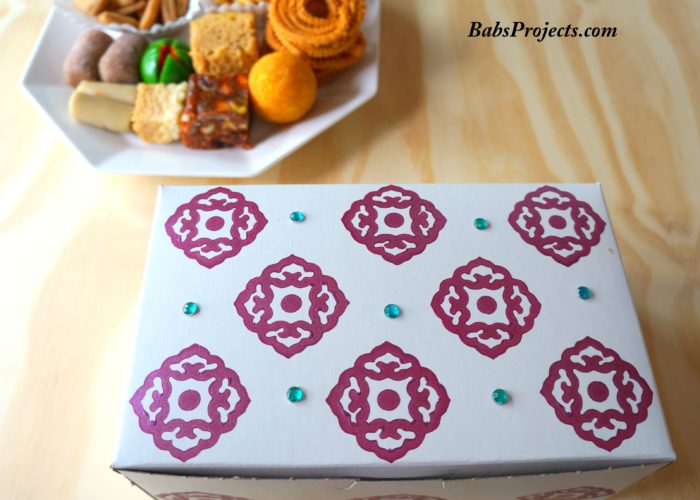 Once I was done with all the boxes, it was time to stage them with all the goodies. For staging purpose, I bought some ready made sweets and snacks from Indian store and placed it in the box over a parchment sheet (which was cut to size). Doesn't that look yummy?
And that was it. No more stressing about Diwali gift boxes any more. I created the perfect one for this season.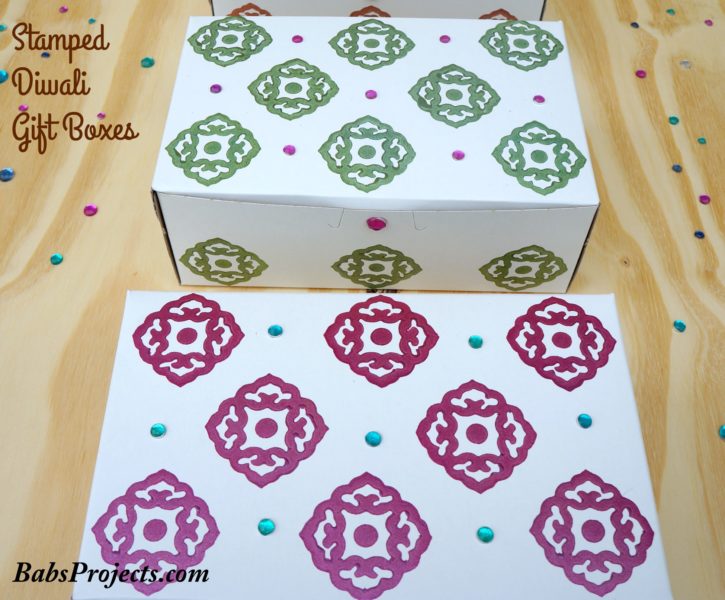 They turned out so great, that I did not want to stop. I wanted to make more of them.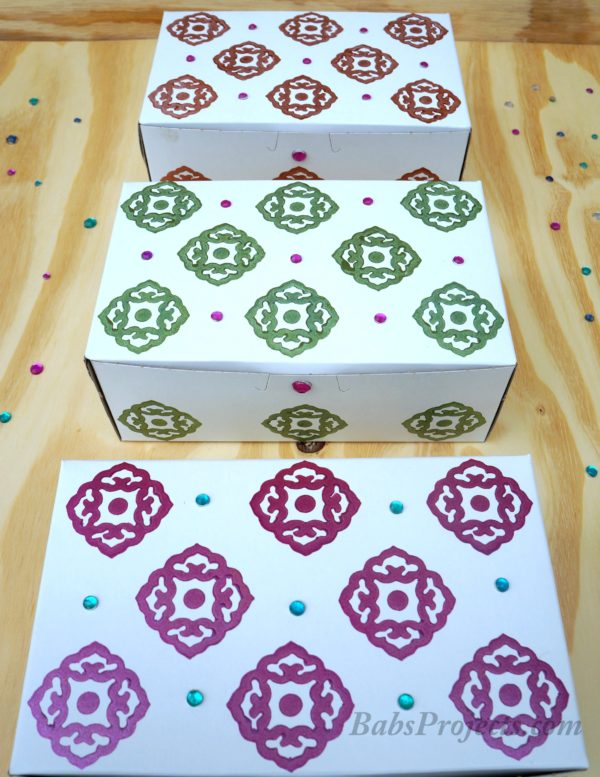 I have to say, it was such a fun project. The fact they were quick and economical to make was a plus for me.
So what do you think of the Diwali Gift Boxes? Wouldn't they be perfect for your gift giving this Diwali?