Posted on
Feb 12, 2013
in
Wish lists
This weekend will be our 16th wedding anniversary. As I was browsing the web for a meaning yet functional gift for my DH, I stumbled upon the This Guy T-Shirts. I don't know why, but this T-Shirt immediately made me smile. I found the phrase "This Guy Loves his Wife" amusing as well as brilliant. As most of you ladies will agree with me, after so many years of marriage, husbands tend to get lazy and miserly with their compliments (at least mine has). All the shouting from rooftops pledging their love and life starts to wane. I am pretty sure, I am not the only one inflicted with this curse. I think this is a perfect gift for men like him. It is simple, functional, and self-serving. Whenever I feel a need for him to declare his love, all I have do it ask him to wear this T-Shirt (wouldn't it be fun and torturous, if I made him wear it in front of his friends :-)).
These This Guy T-Shirts are available online over at Economy Grocery (click here to check out their shop) at ETSY.com. They are made in USA, and the fun messages are all screen printed by hand. If you check out their sales you will see the above mentioned T-Shirt is their top seller, so I know I am not alone. They are available in Kelly Green, Red, Aqua or Asphalt Grey and in men's sizes from S to XXL.
Valentine's day is just around the corner too and for all the single ladies if you still have not bought your better half a gift, fear not. There is a This Guy T-Shirt for your man too. Check out the phrase "This Guy loves his Girlfriend".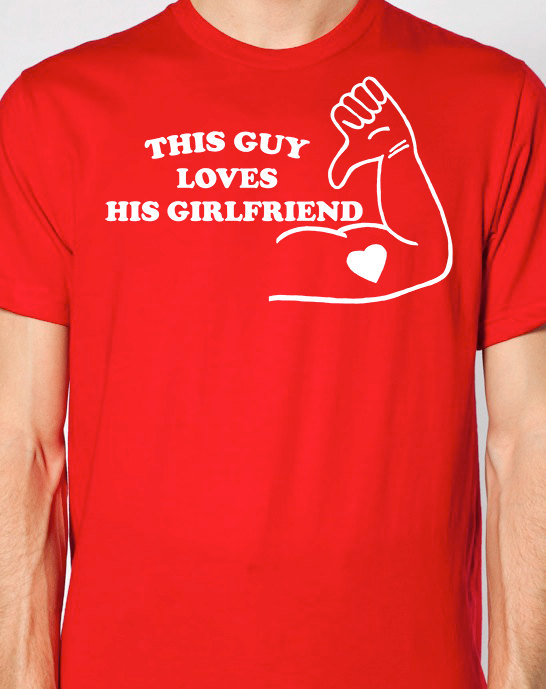 Images Credit: All images used with permission from Sam from Economy Grocery .