Shrikhand is nothing but sweetened Greek yogurt flavored with aromatic cardamom. It is thick and creamy in texture like Greek yogurt however, taste wise it is sweet and tangy unlike Greek yogurt. This dessert is local to the state of Maharastra in India. It is usually made during the festival of Gudi Padwa, which is the Maharastrian new year and falls somewhere between March and April.
My mom loved to make it any time. If we remembered it and had a craving for it, she made it. Of course, it would take at least two days to make this dessert, but all the agony was worth the wait. She also made it from scratch, which included making yogurt at home. I cop out and use store bought yogurt as the winter weather here makes setting of the yogurt difficult. It is usually served with puris (handmade and deep fried flat bread). We however, ate it straight up.
Shrikhand is joyfully and sickening sweet. Some might be put off with all the sweetness, but my siblings and I devoured it. Hope you enjoy it too…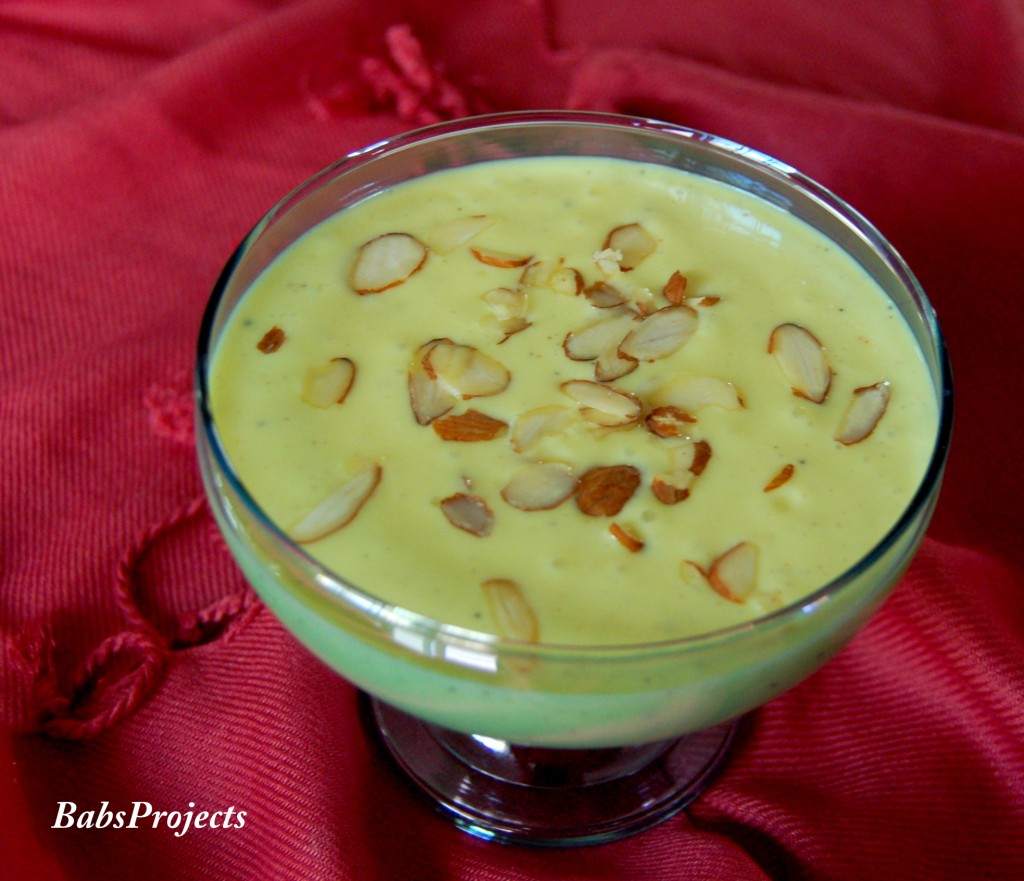 Ingredients:
2 lb container of plain yogurt (either store bought or homemade)
1/2 to 3/4 cup of sugar
3/4 tsp ground cardamom
few threads of saffron or yellow food coloring
1 tbsp of almond slices or chopped pistachios (optional, only for garnish)
Preparations:
Place cheese cloth or muslin over a bowl. Empty all of the yogurt over the cloth. Bring all the sides of the cloth together creating a pouch. Tie a tight knot on the top pushing the yogurt as far down to the bottom of the pouch as possible. Gently squeeze out as much liquid as you can.
Once the yogurt pouch is all tight and secure allow it to drain overnight.
Next day, open the pouch and pour all the thickened yogurt into a blender.
Add sugar, powdered cardamom and yellow food coloring.
Blend all the above for about a min in the blender.
Remove and garnish it with almonds slices or chopped pistachios. Serve a spoonful during or after meal.
Useful Suggestions:
Do not use Dannon yogurt. It is not tangy. Since this Shrikhand is very sweet it needs a bit of tang to balance out the sweetness. You can use La Yogurt (Shoprite) or any of the yogurt brands from Indian stores.
I know I am repeating but Shrikhand is supposed to be very sweet. Do adjust the level of sweetness as per your taste. Start of with 1/2 cup and add more if you wish.