Homemade yogurt is a must among Indian families. Known as dahi in Hindi, plain yogurt has a very distinct taste and consistency. It is considered to be cooling to our system and aids in digestion. It is slightly firm, tart and tangy in taste, and most importantly it is not gelatinous. Yogurt is used in some form or the other in most regional cuisines across India. It is used to marinade poultry, mutton and sometimes seafood too. It is used to make salads (raita) and desserts (Shrikhand). Some families make it a point to serve it during every meal as a digestive and palate cleanser.
Although nowadays yogurt is available in Indian stores, I prefer making it at home. You know it is very easy to make yogurt at home. The important thing required for that to happen is a warm and hot environment for the fermentation to occur. Since it is cold during the winter months here in the Northeast, fermentation becomes difficult. So I had given up making it and resigned myself to store bought yogurt. As with most things store bought, I was not happy with the texture nor the taste of the yogurt.
Anyway during last thanksgiving my husband ordered Instant Pot from Amazon. I have been hearing a lot about the Instant Pot, but was not very keen on buying it because I love using my traditional pressure cookers (yes I have more than one). Since it was on sale, he said we could use it as a backup.
The first thing that I wanted to try out in Instant Pot was the yogurt function. So after reading the manual, I made yogurt, and at my first try I was successful. Since then I have made it many times and I cannot tell you how impressed I am with the results. Check out the steps below and let me know in the comments if you have or will attempt to make homemade yogurt in Instant Pot.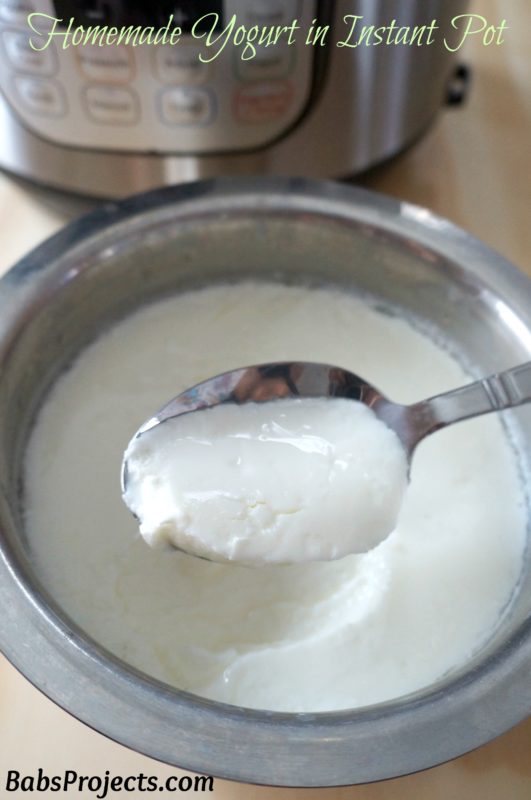 To Make Homemade Yogurt in Instant Pot you need the following:
4 cups of milk of your choice ( I used 2% Organic milk)
2 tbsp of yogurt starter (leftover yogurt)
Preparations:
Pour the milk in a stainless steel stock pot and bring it to a boil.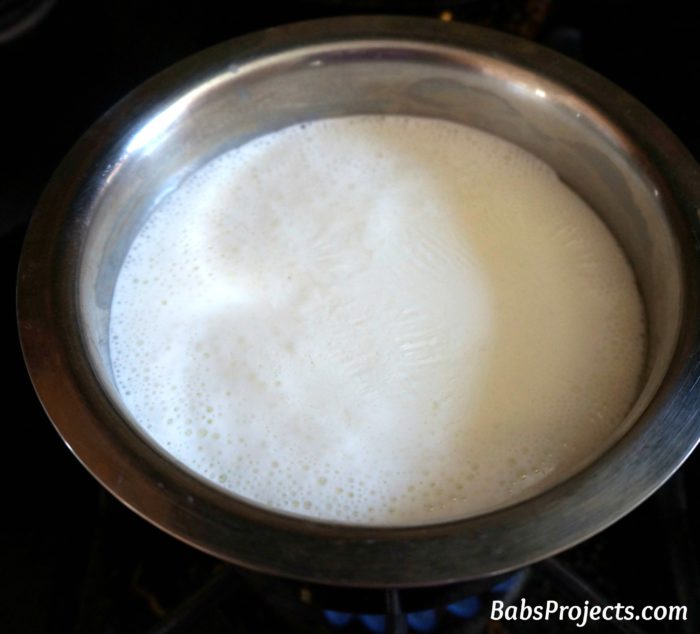 Allow it to cool down to room temperature. Next add the starter (also known as culture). You must be wondering what this starter is. I am using what is known as the Heirloom or Reusable culture. With every batch of yogurt you make, you save some cultures to mix in with the milk (you can do this for years). It is nothing but the leftover yogurt that you already have in your refrigerator. You can even use some of the store bought plain yogurt. Yesterday when I was getting ready to make yogurt,  I found out I did not have any starter with me. So I rushed over to my neighbor's house and borrowed 2 tbsp of yogurt from her.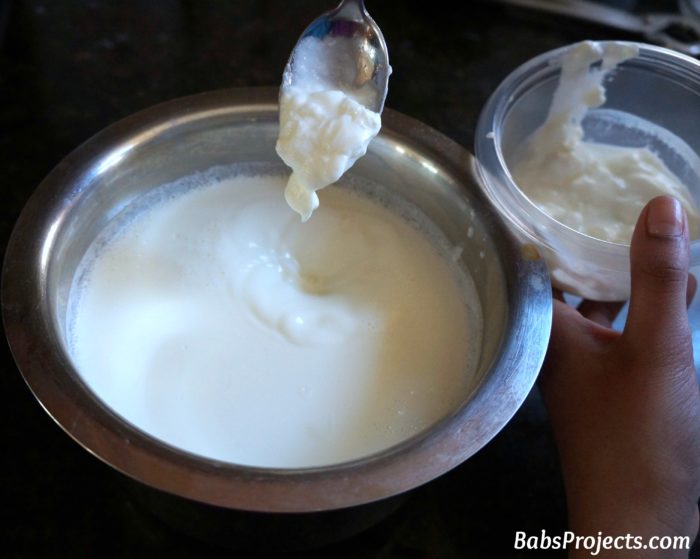 You can also buy ready made starters from online stores and Amazon.
Traditional Flavor Yogurt Starter
Euro Cuisine RI1020 All Natural Yogurt Culture / Starter ( Contains 10 – 5gr Packet)
Yogourmet Casei Bifidus Acidophilus Probiotic Yogurt Starter, 1 Ounce, 6 Count Box
Once you have added the culture, the next step is to whisk this mixture properly.
Plug in the Instant Pot. Add a cup and half of water to the inner pot. Place the stainless steel rack inside. On top of the rack, place the stock pot and close the Instant Pot lid.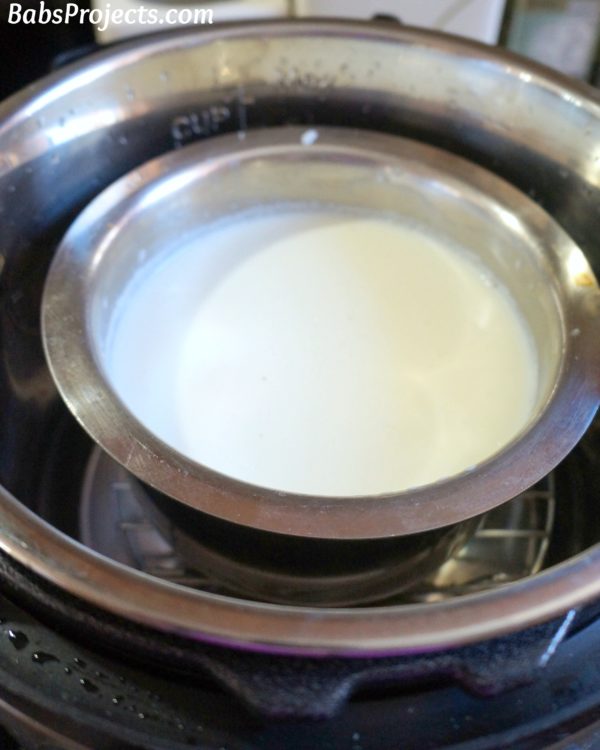 Press the yogurt button and set the timer to four hours. Once the four hours are done, it will beep and that means it is ready to be switched off. Leave the stock pot inside for another hour.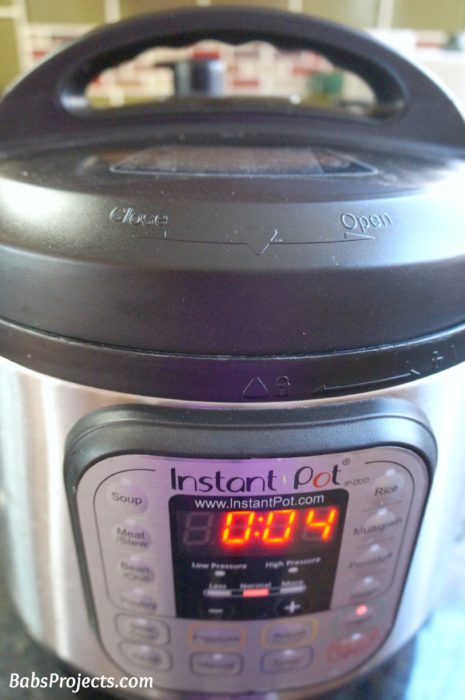 By this time the yogurt will be ready, but it may not be firm. For that take it out from the Instant Pot, cover the top of the stainless steelpot with a plastic wrap or a lid and place it in the refrigerator overnight.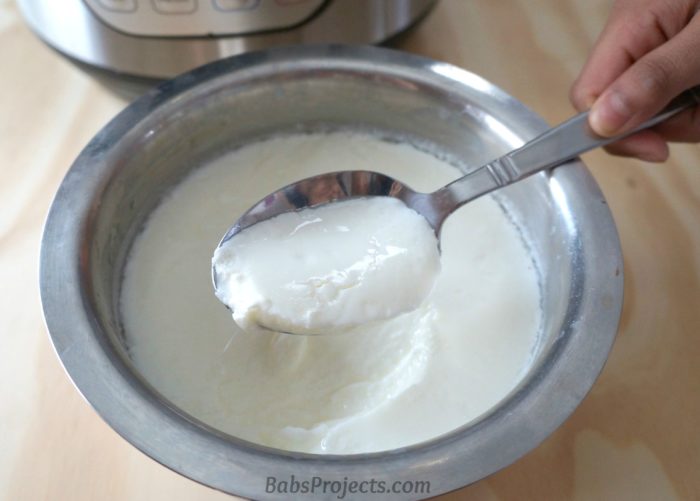 That is all there is to it. It is that simple. You will have fresh homemade, preservative free yogurt ready the next morning. You can serve it savory with a dash of salt or mix in with rice. You can add fresh fruits and eat it as a dessert … the possibilities are endless.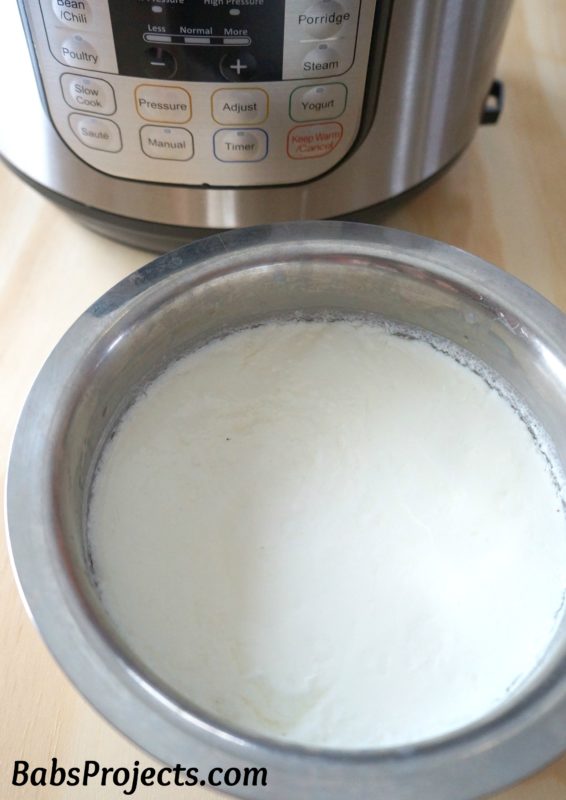 Instant Pot IP-DUO60 7-in-1 Multi-Functional Pressure Cooker, 6Qt/1000W
To make this yogurt you need the 6Qt, 7-in-1 Multi functional pressure cooker… just like the one in the picture. It is the only Instant Pot which has the yogurt function in it. The smaller ones do not have this function. For all the Indian cooks, remember you can use this yogurt function to not only ferment Idli/dosa batter but also to sprout beans.
Useful Suggestions:
There are two ways to make yogurt in Instant Pot. In the first one you can boil the milk directly in Instant pot. I used the second method where, I used the Instant Pot more as a fermenting and warming container.
Disclosure: This post contains an affiliate link