I was inspired to make the Rice Krispie Ladoo to celebrate our Indian festival/holiday Holi. Holi is a spring festival celebrated all across India and by Indians of all faith.  This festival celebrates the arrival of spring and end of winter. It is known as the 'Festival of Colors'  The celebrations last for two days …  the first day is religious,  and the second day includes fun, frolic and food.
Lately this festival of Holi has began to spread to parts of Europe and North America, especially in the Indian community. My girls cannot wait for Holi to begin. For them it is their way to play with colors alongwith their friends and not worry about making a mess.
So sticking to the theme of colors, I decided to make the Rice Krispie Ladoo. Ladoos can be made with different ingredients, but it refers mostly to the round shape of the treat.
I took the basic rice krispie treat recipe, added an Indian ingredient, tweaked it some more and came up with these gorgeous colorful ladoos. They are ready literally in minutes and is one of the easiest recipes to make. It is so easy that you will trust your kids to make this all by themselves. I hope you enjoy this recipe!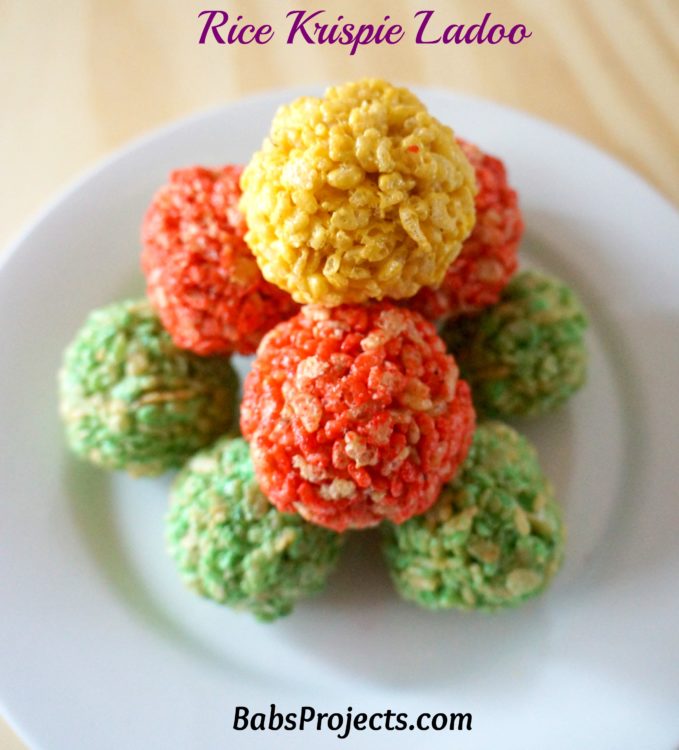 Ingredients:
2 cups rice krispies
1 cup white marshmallows
1 tbsp butter
1/2 cardamom powder
Food coloring of your choice
Preparations
In a microwaveable bowl melt butter and add cardamom powder. Add a couple of drops of food coloring of your choice to the bowl and mix properly.
Pour the marshmallows into the same bowl and heat in the microwave for 30 seconds.
Remove it and mix again.
Add the rice krispies and mix them properly until all of them have been coated with the melted marshmallows.
Set is aside for couple of seconds.
Take a handful in your palm and form it into a ball by pressing it firmly from all sides.
Repeat the steps from the beginning to create different colors of rice krispie ladoos.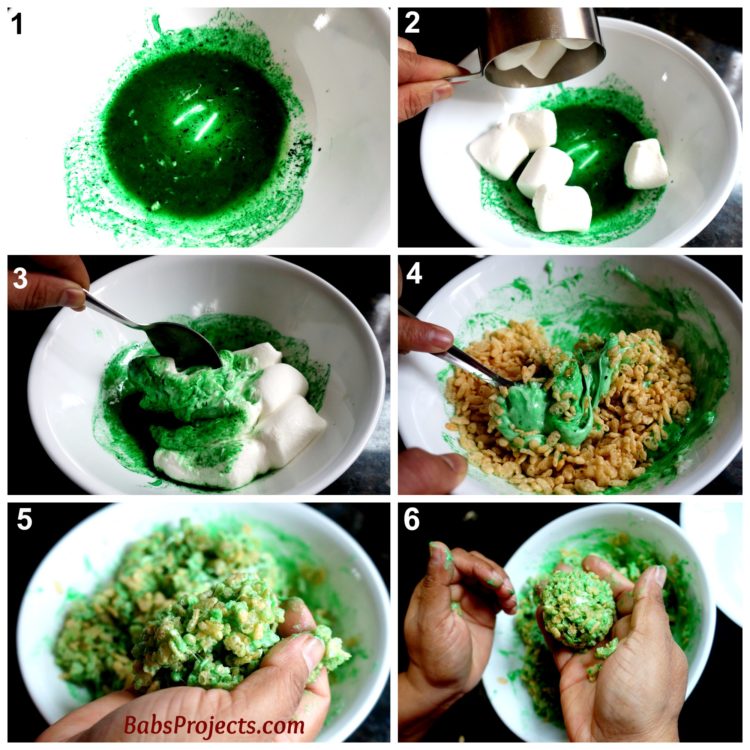 Useful Suggestions:
When you try to form the ball it is going to be sticky. Apply some water to your palm before making them.
You can make any size ladoos you want.
I have not specified the number of food coloring drops, because it really depends on how much intense you want the colors to be. Add more drops for more vibrant color.
I used the Wilton food coloring. As you can see below, they have many other color options available. I used basic food coloring for these ladoos… red, green and yellow. The next time I make it I am going to try out the Neon food colors.
Wilton Set of 8 Icing Colors
Gel Food Color Set, Primary Colors and/or Neon Colors, 3-Pack
Wilton Set of 8 Icing Colors (Set of 16)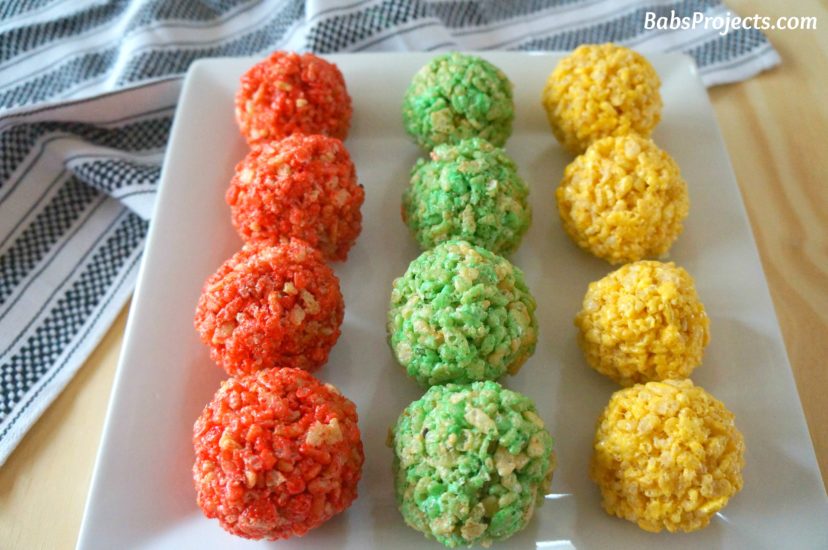 Disclosure: This post contains an affiliate link