When I saw this recipe in "Self" magazine (April 2012), I knew I had to try it. Something about it tempted me to go for it. I checked out the ingredients and with the exception of the rice vinegar and dill, I had all the others at home. So after shopping for those, I set out to make these burgers. The best part about this burger is that it is totally vegetarian. Made entirely from chickpeas and sweet potato it is nutritious and packs in different levels of  flavors. Enjoy!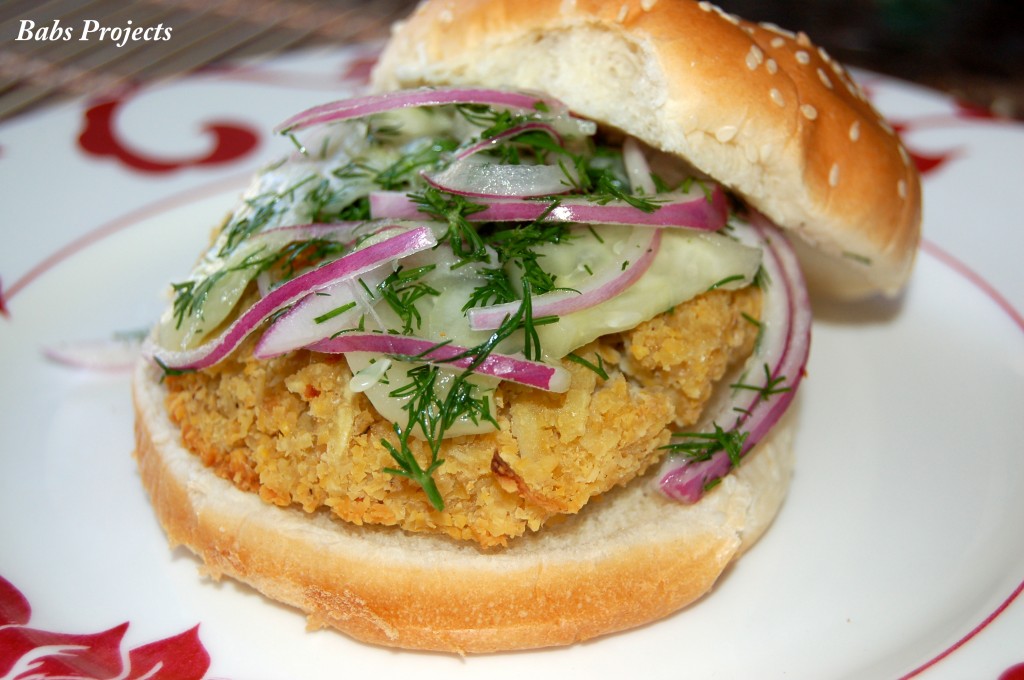 Ingredients
1 1/4 cups of dried chickpeas
3 tbsp tahini
1/4 tsp baking powder
1/4 tsp freshly ground black pepper (can add little bit more as per taste)
1 tsp Kosher salt ( I used regular salt)
1 small sweet potato, peeled and grated
1 medium cucumber, peeled and thinly sliced
1/2 small red onion, thinly sliced
1/4 cup chopped fresh dill
2 tbsp rice vinegar
Olive oil cooking spray
Preparation:
 In a bowl, soak chickpeas in 4 cups  of water for at least 12 to 24 hours and then drain well.
Heat oven to 375 degrees. Coat a baking sheet with cooking spray.
In a food processor, process the chickpeas, tahini, black pepper, baking powder and half the tsp salt, scrapping down sides as necessary, until mixture holds together when pinched.
Stir in the sweet potato and mix well.
Form this mixture into 4 burgers and place it on the oiled baking sheet and cover it tightly with foil. Bake this for 20 minutes.
Remove foil, coat burgers with spray and bake again for 20 minutes.
Flip burgers; coat with cooking spray and bake until crisp on other side for 10 to 15 minutes.
In another bowl combine cucumber, onion, dill, vinegar and remaining salt and set aside.
Serve the burgers with dilly cucumbers on the side.
Verdict
The burger pictured in the magazine had a orange color to it; my burger  looked really plain and sad to say unappealing.
The crispy top and soft center of the chickpea burger however, made up for the lack of looks.
The dilly cucumbers were out of this world and I could eat it by itself.
My Suggestions:
I personally would add some chopped green chillies to add a bit of spiciness to the burgers.
The suggestion was to serve only the patties with dilly cucumber.  I served it on the buns like a regular burger and layered the dilly cucumber on top which added some crunch to it. It was absolutely divine and was perfect for lunch.