Fried Chicken Liver is my mother-in-law's recipe. There is no way I am going to take any credit for it. She used to make this for my late father-in-law all the time. Growing up in Bombay my husband testifies, that every time his mom made this he would fight with his brother and dad for a piece of it. You see back then, the only way you could get your hands on the chicken liver is when you purchased a chicken and as such it was a rare treat.
However, over here in US, I can go to any supermarket and buy a tub of chicken liver by the pound without having to depend on the whole chicken itself. It's no surprise then that I have decided to keep the Fried Chicken Liver tradition alive and well for my husband. Whenever I make this for him not only I am glad to see him relish it, but I am also happy to see him re-live his childhood memories.
By the way, I still make it a point to preserve it as a rare treat and make it only occasionally (wicked). Enjoy!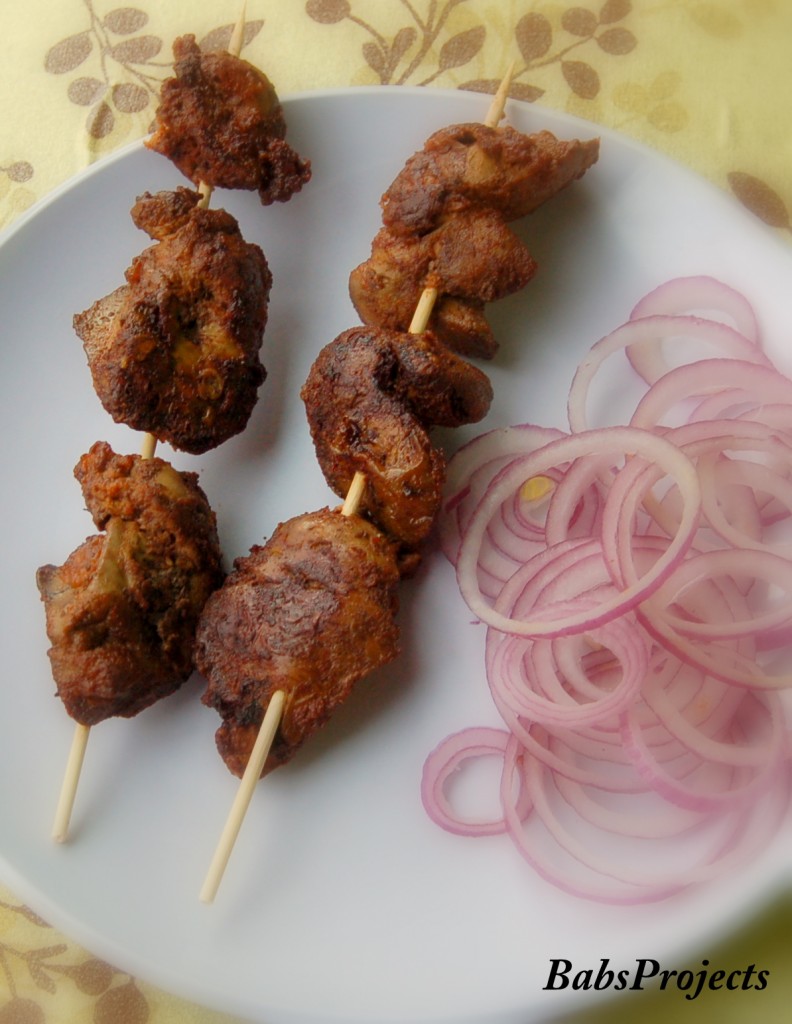 Ingredients

1 lb chicken liver
Canola oil for frying
Ingredients for spice mix:
2 tsp chili powder
1 tbsp cornflour (can use all-purpose flour)
salt to taste
Method:
Clean and rinse out the livers properly and set aside.
In a mixing bowl add chili powder, salt and cornflour. This is the spice mix.
Add the chicken liver to the spice mix and coat them thoroughly.
Heat  oil in a frying pan or iron skillet.
When the oil is hot add the liver in batches and shallow fry them.
Fry them on each side for about 4 to 5 mins.
Once done remove and drain them on paper towel.
Serve them with pickled onions.
Useful suggestions:
Chicken liver has the tendency to splatter. So be very careful while frying it. Use a lid or splatter screen while frying and exercise caution.
While mixing the liver with the spice mix do not add any water. There is already enough moisture in the liver to bind the mix to it.
This is quick recipe, so there is no need to marinade the liver in the spice mix. As soon as the oil is ready, you should be ready to fry the liver too.