Since Labor Day is the last unofficial day of grilling and end of summer, I decided to make Grilled Pompano yesterday. This is one of my girls' favorite fish. In India we call it pomfret, and it is one of the most popular and expensive fish. It does not have a very fishy smell or flavor. Since the flesh of pompano is firm and white, it can be cooked in different ways such as baking, steaming, poaching and frying. Anyway you cook it, you can be sure of one thing — It is going to taste delicious.
If you are looking for pompano you will very rarely find it in the supermarkets. However, you will find them in most Asian stores. In some Indian stores you can also find frozen Indian varieties. I usually buy all my seafood from our local Asian store. This pompano is priced at around $4 per pound, which is not very cheap.
You also get different varieties and species of pomfret, all equally delicious and flavorful. I decided to use a pompano, which looks similar to the Florida pompano. This particular pomfret has a thick, oily, silver and yellow skin. It takes very well to grilling.
This recipe is not complicated and uses minimum, easy-to-find ingredients. I just threw around some ingredients together and it turned out to be delicious. I hope you all like it too. Enjoy!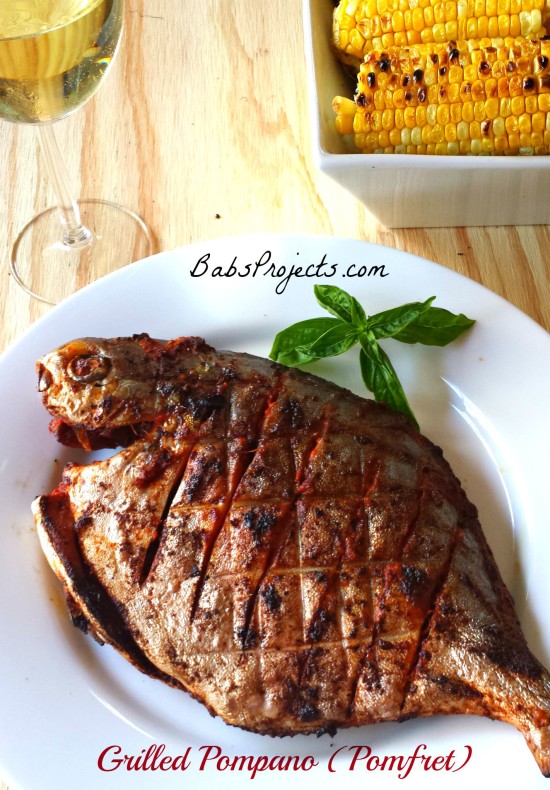 Ingredients:
1, 2lb whole pompano/pompret (cleaned and gutted)
2 tbsp red chili powder
1 tbsp grated ginger
2 tbsp lemon juice
3-4 tbsp water
salt as per taste
oil for basting
Preparations:
Score (deep) the pompano on both sides diagonally. Rinse and set it aside.
In a mixing bowl combine chili powder, lemon juice, ginger, salt and water. Mix it well and generously apply it all over the pompano.
Allow the pompano to marinate in this mixture for 2 hours.
Prep the grill by applying some oil on the grates. Once the grill temperature reaches around 350 degrees place the pompano directly over it or in a fish grilling basket.
Allow the fish to cook for around 10 minutes on each side.
Remove it from the grill and serve it hot with some lemon wedges.
Useful suggestions:
This is one tip I always mention because people are used to different levels of spice and heat; use Kashmiri chili powder if you don't like it very spicy. This chili powder has less heat, but at the same time imparts beautiful red color when added to any food.
I personally like to place the fish in a grilling basket because it is easier to handle. Since it is in the basket it also does not stick to the grates. The only thing to do is to prep the basket by applying oil on both sides.