Whenever I make the Kadale Manoli Bhaji, I am instantly reminded of my mom making it in the kitchen and I am waiting impatiently for her to finish it. Manoli is nothing but (as per my Google search) Indian Ivy Gourd. The most common Indian name for this vegetable that I know of  is Tindora, Tondli and Tendli. It is around 2 1/2″ to 3″ long, green, and when halved resembles a tiny cucumber. It is a very popular vegetable in India, and here in New Jersey you can find it year round in all the Indian stores. This is what it looks like:
Even though Manoli is used all over India and different regions use this vegetable in their version of recipes, the Kadale Manoli recipe is native to Mangalore (Karnataka), India. In this recipe it is paired with Kadale (Brown Chickpeas) and just like the "Chicken Sukka (Ajadina Kori)" it is finished off with lots of grated coconut.
This recipe is completely vegetarian, and the combination of Manoli, Kadale and  grated coconut adds layers of flavor to the dish.  I usually have to make this in a huge batch as my husband loves to eat it as a pre-lunch or pre-dinner snack.  Although the process for making this recipe is longer, I  can promise you it is nothing like you have ever tasted before. Enjoy!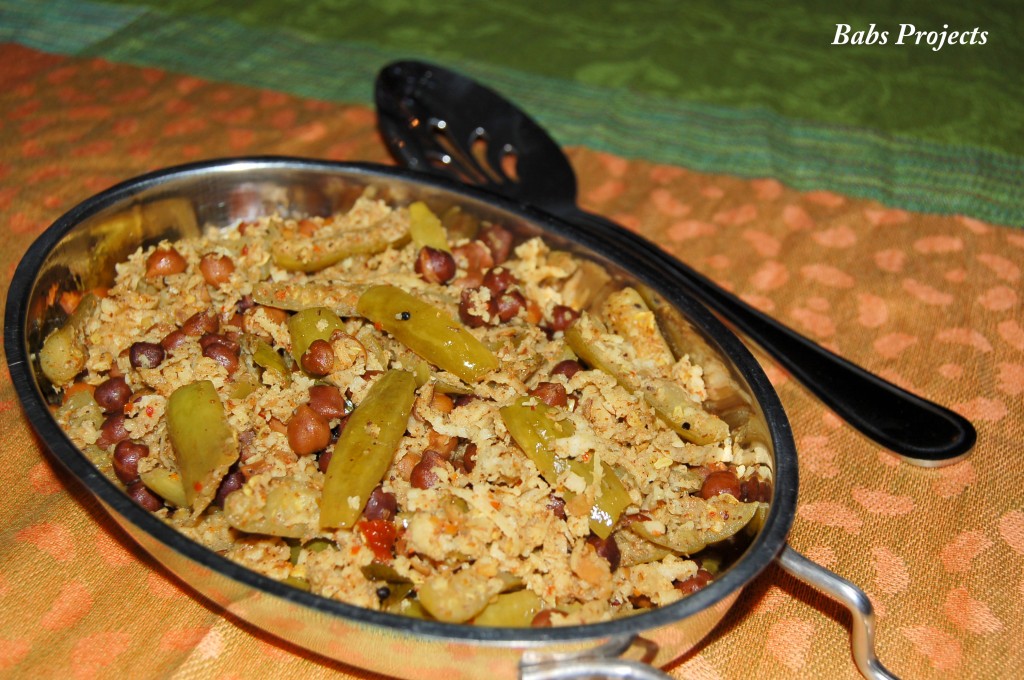 Ingredients:
1 lb Manoli (Tindora, Tendli, Indian Ivy Gourd)
1 cup Kadale (Brown Channa, Brown Chickpeas) soaked overnight
3-4 dry red chillies (can add more if you want it spicier)
1 tbsp coriander seeds
1 tsp cumin seeds
1 tsp mustard seeds
3 large flakes of garlic (sliced)
7 -10 curry leaves
1/2 tsp turmeric
1 small onion (chopped)
1″ ball of tamarind or 1 tsp of tamarind pulp
salt to taste
oil as required
2 cups of water
1 1/2 cups of fresh, grated coconut
Preparation:
Wash Manoli completely. Slice each of them lengthwise into 4 pieces and set aside.
Rinse the soaked kadale one time and set aside.
Heat a saute pan and roast dry red chilies, coriander seeds, cumin seeds and half of the mustard seeds separately.
Allow them to cool and grind them in a coffee (spice) grinder and set aside. You should end up with a blend of dry powder (this is the curry powder).
Heat oil in a large pan.
Add mustard seeds. Once they have spluttered add the curry leaves and garlic flakes.
Saute  them for a min and then add the chopped onions.
Saute the onions for about 5 minutes until they turn translucent and then add half of the curry powder.
Add the turmeric and salt and mix all of them together.
Finally add the sliced Manoli and the Kadale. Add water, tamarind pulp and cover the pan with a lid. Allow it to  cook on high heat  for a good 30 – 45 mins or until both the Manoli and Kadale have turned soft.
If they are undone and you see the water has evaporated add some more water.
In the meantime add the coconut and rest of the curry powder into a blender and pulse it once or twice. Do not add any water.
When Manoli and Kadale have turned soft add the coconut and mix them thoroughly. Allow all of this to cook for another 5 -10 mins on low to medium heat.
Take off heat and serve it with rotis or rice.
Useful suggestions:
If you are pressed for time, then you can pressure cook both the Kadale and Manoli separately in a cooker. The Brown chickpeas have to be cooked with water and once done, should be drained. The Manoli should be steamed only. This will save some time in the cooking process. If you are using this process then do not add any water.