My experience with squid curry is totally American. My mom never made this when we were kids, and even for self-confessed seafood fanatic like me squid looked and represented an alien. It was only during one of my mom's earlier trips to US and subsequently the Asian store, she told me that squid curry was common in the Mangalorean (South Karnataka, India) cuisine. That was all I needed to hear. I put my fears to rest and since then I have been making squid curry.
Squid, which is called Bhondas in Tulu is prepared with coconut base similar to the Sardine Curry. It has a very intense aroma and I don't think it is for everyone. I however, love it more in the curry than frying it. The curry version reminds me of Mandli fish curry (small golden fish which I am presuming is available only in Bombay). For those who have never had squid before, trust me and take a leap of faith. Make it today and let me know what you thought of this recipe. Enjoy !!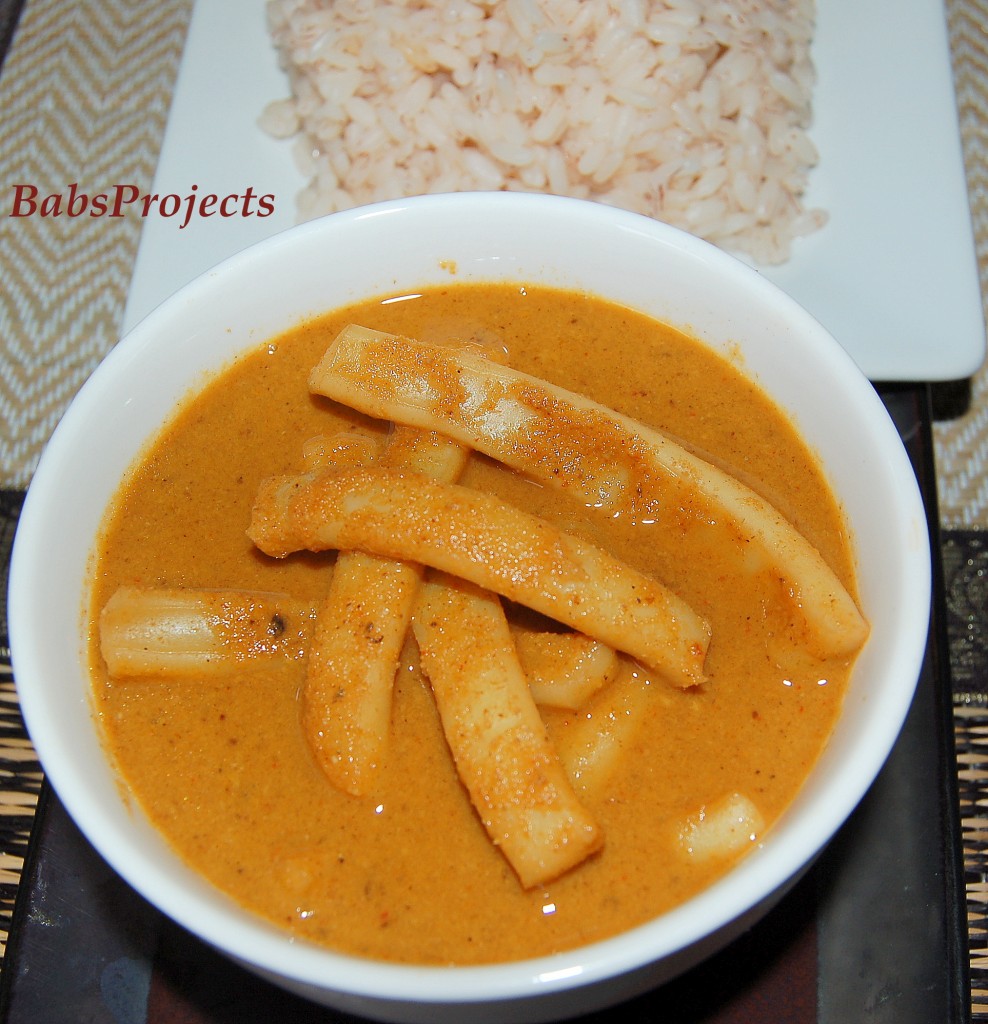 Ingredients:
3 lbs of cleaned squid
1 1/2 tbsp coriander seeds
1 tsp cumin
6-7 dry red chilies (preferably Bedaki chilies)
1/2 tsp whole black pepper
1/4 tsp fenugreek seeds (methi seeds)
1/4 tsp ajwain/thymol/bishop's weed ( you can substitute it with oregano )
3 big flakes of garlic
1 1/4 cups fresh or frozen grated coconut
1/2 onion
3 cloves of garlic
1/2 tsp turmeric
3-4 pieces of dry tamarind (1 tsp of tamarind pulp)
salt as per taste
1 tbsp oil
Preparations:
Roast dry red chilies, coriander seeds, cumin, black pepper, fenugreek seeds, ajwain separately with a little bit of oil for couple of minutes and set it aside.
Lightly roast the grated coconut and set it aside along with the above ingredients.
In a blender/mixer add roasted coconut, all the other roasted dry ingredients along with garlic, onion and turmeric into a fine paste with the tamarind soaked water. Add more water if required (remember the consistency has to be of a paste and not watery).
Heat a flat bottom casserole or a small stock pot. Add oil and when it is hot enough slowly add the blended paste and saute it for about a minute.
Add 2 cups of water to the paste and let it  boil on medium-high for 10 minutes allowing all the flavors to blend.
Add the squid slices into the curry and allow it to simmer for another 10 minutes.
Serve your squid curry hot with red or parboiled rice.
Useful suggestions:
Do not overcook squid. The texture will be very chewy.
Squid has a very intense flavor and aroma, so if you are not a very seafood kind of person you may be a little put off with it.
Squid has a center bone which is very transparent and difficult to see, but you can feel it if you run your fingers along the center. Remove that bone. If you are not able to do it better have it cleaned in-store or buy frozen.