I never knew of collard greens before I came to US. We did not have it in India and as such my mom never made it. It was when I was pregnant with "TEE", my Obgyn recommended I include leafy vegetables in my diet. She suggested collard greens along with with kale and mustard greens. As I never had collard greens before, I did not know their flavor profile.  In fact I did not even know how to cook them. It was a brand new culinary adventure for me and I was not really looking forward to it. So I came up with this recipe where I combined it with black eyed peas to make it palatable. My thought was if I did not like the greens I could pick and eat the peas and not starve myself and my unborn baby 🙂
Thankfully no one starved. My fear of collard greens disappeared the minute I tasted it. I have loved it and since then I have been making this recipe. My girls don't enjoy them as much as I do, but they don't have a choice. When I make it, they have to eat it. Enjoy!!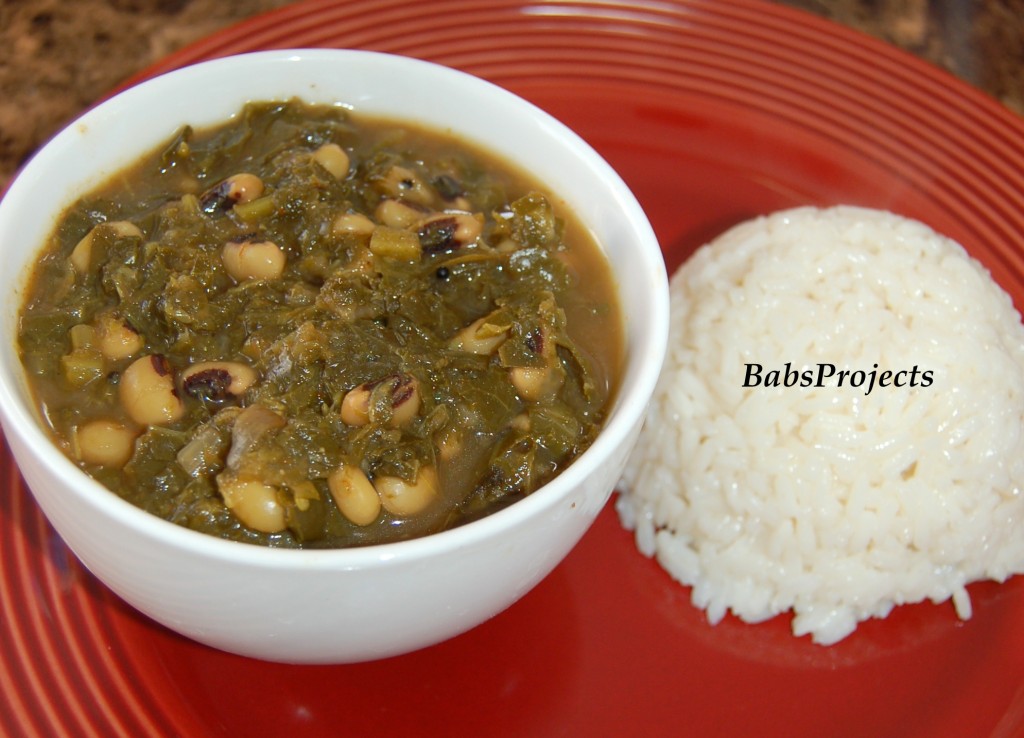 Ingredients:
1 bunch of collard greens
1 cup of soaked and drained black eyed peas
1 large chopped onion
1 large chopped tomato
1 tsp mustard seeds
7-10 curry leaves
3 cloves of chopped garlic
2 small green chillies (optional)
1 tsp turmeric
1 1/2 tsp coriander powder
2 tbsp oil
salt as per taste
Preparations:
Cut off the largest part of the stems. Bunch up all the leaves together. Roll them up into a bundle and thinly slice the bundle into strips
Wash the sliced greens in a large stock pot with lot of water. Repeat it twice. This will allow the dirt or sand to settle down at the bottom of the pot.
In a pressure cooker, heat oil. Add mustard seeds, curry leaves and green chillies. After they stop sputtering add garlic and onion.
Saute the onion and garlic for around 2 minutes.
Add coriander powder and turmeric and saute for few seconds.
Finally add the greens, black eyed peas , tomato and water.
Pressure cook it for around 15 to 20 minutes until done.
Serve on a bed with hot rice.
Useful Suggestions:
You can use canned black eyed peas, but drain away the liquid and rinse them.
You can find coriander powder in Indian and other Asian stores. You can also find them in Walmart and ShopRite.