How to prepare Chicken Lollipop? It is actually easy to make, but time consuming to prep. If I was in Bombay, all I would have to do is go to the butcher and ask him for chicken lollipops and he would have it ready to go. My job then would be to bring them home, marinate it and fry them. So Easy, right? Here in the US however, I do not have this luxury. If I want to make the lollipops then I have to prep them myself. So even though we all love this recipe to death, I make it only on special occasions.
In the pictures posted below are step by step instructions to transform the raw chicken wing into a lollipop shape. A word of warning; it is a bit graphic so if you are squeamish, then please avoid this post. Others enjoy!
This is a picture of the whole wing including the wing tip. The first step is the cut the wing tip at the joint and discard it.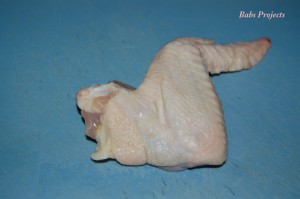 Next, pull off all the skin.  During this process you may have to play tug-of-war with the wings, as they are very slippery. Once most of the skin is off cut it in the center at the joint.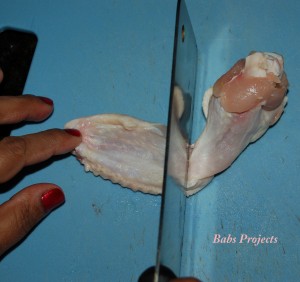 You will end up with two pieces of wings as show below. Both these pieces can be shaped into a lollipop.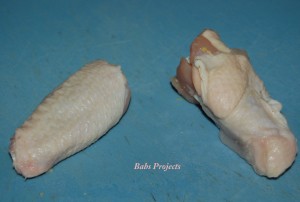 Now hold the piece of wing near its joint and pry the flesh away from the joint carefully.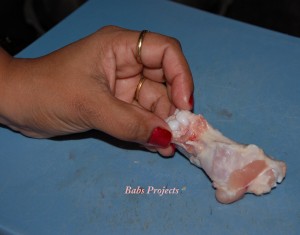 Holding the bone at the same position slowly scrape all the flesh downwards.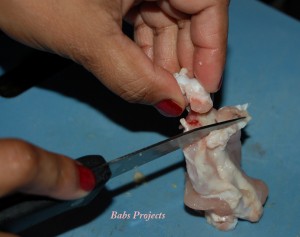 Continue to scrape it…….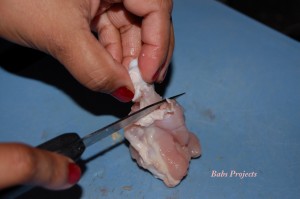 and scrape it….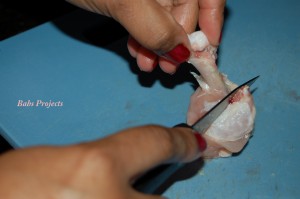 Till it ends up like this…..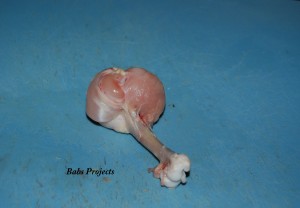 There it is, a perfect lollipop shape. One down, 23 more to go. It may be time consuming, but it is totally worth it and if you would like the recipe for Chicken Lollipop click here.