Spicy Eggs with Tomato and Onion is my mother-in-law's recipe. I have to give her credit for introducing me to this recipe. I don't know where she got it and how she came around to making it. In fact this recipe does not even have its own name. I struggled with naming it and had to settle with spicy eggs with tomato and onion (I agree its not very creative). Anyway, my DH loves this recipe and so do my girls. It is quick, healthy, tasteful and amazingly easy. It's a no frills recipe and I usually have to double my batch when I make this cause we always return for seconds. I made this for dinner last night and my girls did not want to wait for it to be photographed. They were so hungry and restless that I had to make do with this quick picture. I hope you all enjoy it.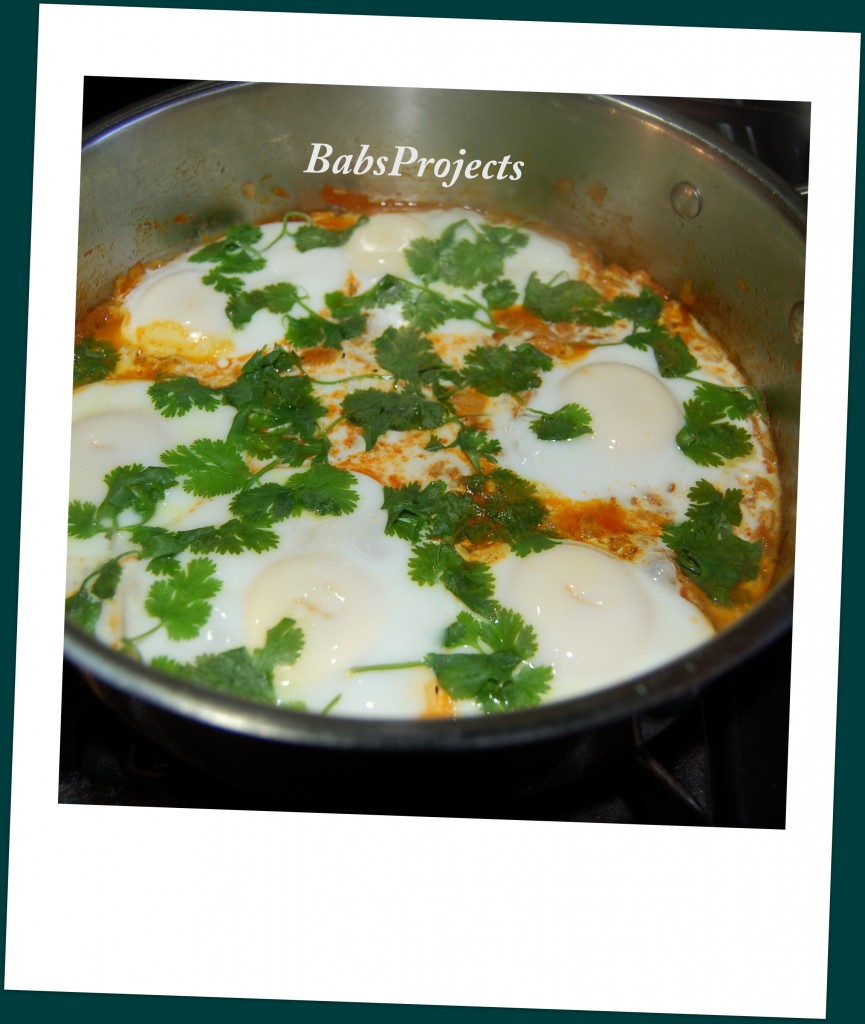 Ingredients:
6 eggs
2 large diced yellow onions
2 large chopped tomatoes
1 tsp garam masala
1 tsp chili powder
1/2 tsp turmeric powder
1/2 cup of coriander leaves (whole)
2-3 tbsp oil
salt as per taste
Preparations:
Heat oil in a flat bottom skillet or pan.
Add the diced onions to the pan and cook it for a 2 mins.
Add all the spices including chili powder, garam masala, turmeric and salt.
Add the tomatoes to the mixture and saute it for few seconds.
Allow the onions and tomatoes to cook on medium heat for about 5 -6  minutes.
Once they have been cooked spread it evenly in the pan.
Break the eggs and layer it over the tomatoes and onion one at a time.
Now layer the coriander leaves over the eggs neatly.
Cover the pan/skillet with a lid and turn down the heat.
Allow the eggs to cook until done.
Cut it in triangles around each egg and serve it with toasted bread.
Useful Suggestions:
You can increase the spices as per your taste.
This recipe can be served with rice.