I was one of those people who hated tofu. I did not like the taste. I did not like the texture. I did not like anything about it. Then one day I had tofu in my friend's house. She had basically stir fried it with some sauces and served it as an appetizer. Since then I have fallen in love with tofu. I saw lot of potential and I began experimenting with it.
The recipe for Tofu Bhurji is similar to scrambled eggs. Bhurji means scramble in Hindi language. In Indian cooking scrambled eggs are prepared very differently. It includes lots of onions, tomatoes, cilantro and sometimes a heavy dosage of Indian spices. You will also be surprised to learn that scrambled eggs is not served at breakfast. It is usually served as a lunch or dinner entree paired up with rice or rotis/chappatis (whole wheat flour tortilla).
This recipe for Tofu Bhurji is inspired by scrambled eggs (the Indian recipe). The texture of tofu in this recipe feels very similar to egg whites. In fact I was able to trick my little one 'S' by telling her that I used egg white. So check out the recipe below and try it out at least once. You will be surprised. Make sure you return back and let me know what you think about it. Enjoy!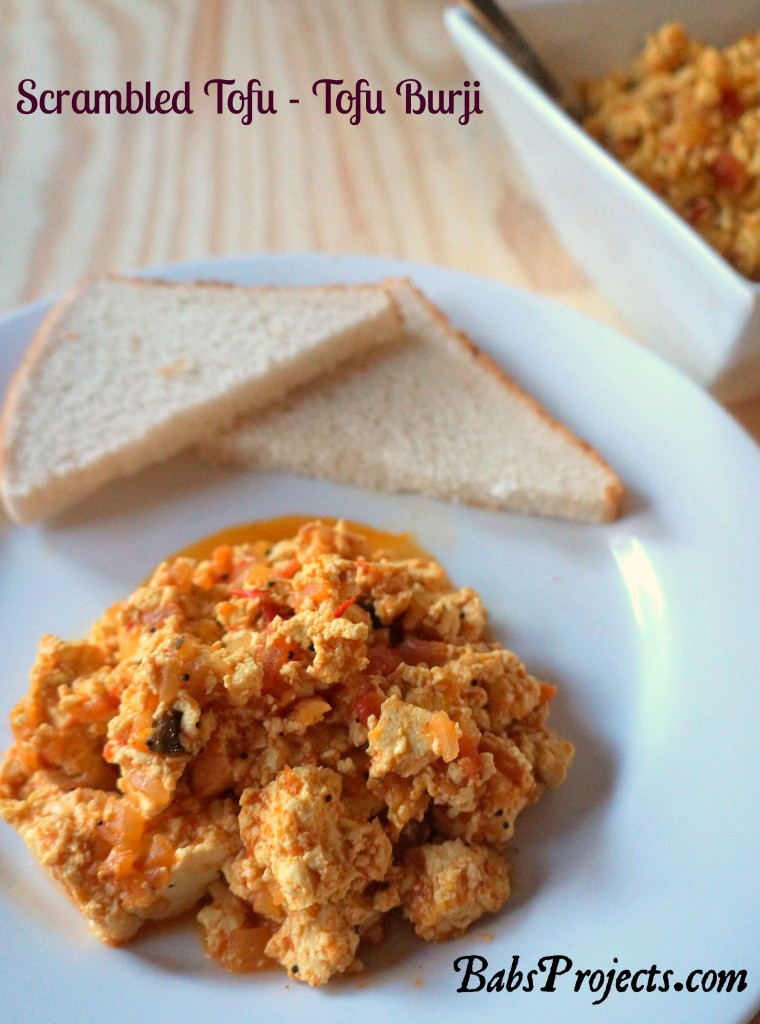 Ingredients:
1 14 oz or 16 oz packet of firm/extra firm tofu
1 large onion (chopped)
2 medium tomatoes (chopped)
5-7 curry leaves
1/2 tsp mustard seeds
1/4 tsp turmeric powder
1/2 tsp chilli powder
2 tbsp oil
1/2 cup chopped cilantro (coriander leaves)
salt as per taste
Preparation:
Remove tofu from its package. Rinse it properly under running water. Squeeze excess water and set it aside.
In a saute pan heat oil. Once the oil has heated add mustard seeds. Wait for it to finish spluttering and then add the curry leaves.
Add onions and saute them on medium for around 7 minutes. Then add tomatoes and cook it for another 5 minutes.
Add turmeric, chilli powder and salt to the onion and tomato mixture. Now saute all of this for about 2 minutes.
Roughly crumble tofu into small pieces and add this to the saute pan. Mixture everything thoroughly until the tofu has absorbed all the flavors. Cook it for 10 minutes on low to medium flame stirring it occasionally.
Remove from heat and garnish it with cilantro/coriander leaves.
Serve it hot with rice or rotis.
Useful suggestions:
Tofu Bhurji tastse great with bread too.
You can add more chilli powder to spice it up.