What can be more traditional than the classic Christmas Fruit cake. This recipe however is a little bit different. It is the Indian version of Fruit cake also known as Rum cake. It is one of my favorites and I miss it so much. Since I don't get this over here, I religiously make it a point to have it whenever I am in Bombay. Appearance wise it has a very dark color because of the rum and caramel. It also has less fruits in it than the ones found here.
I searched for this recipe for a very long time and also tried several versions of them. I always ended up disappointed because it did not taste like the fruit cake back home. I finally got this recipe from my friend M.M. She is a fabulous baker and very passionate about baking.  She is the go to gal for all my baking needs. So every Christmas I have started my own tradition of making this cake for my family.
As I share this recipe with you, I would also like to wish everyone Merry Christmas, Happy Hanukkah and Happy Kwanzaa. Enjoy.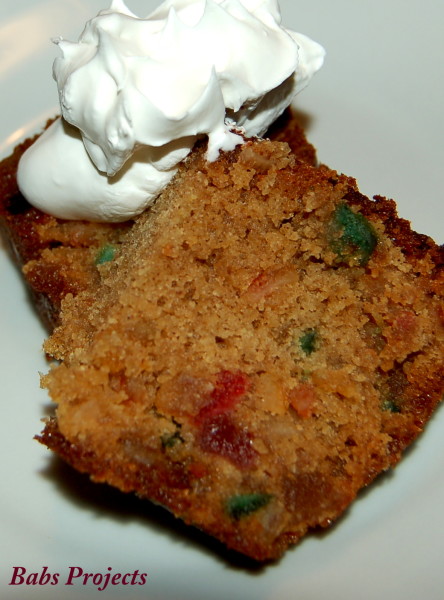 Ingredients:
1 cup of all-purpose flour
1 cup of softened butter
1 cup of sugar
2 eggs
1 1/2 cups of chopped fruits (currants, raisins, prunes, candied orange rind and dates)
1 tsp mixed spices (cloves, cinnamon and ground nutmeg) or 1 tsp of all spice powder
1 1/2 tsp baking powder
1 tsp vanilla essence
1/2 tsp almond extract
5-6 tbsps of rum or brandy
2-3 tbsp of caramel
a pinch of salt
Ingredients for Caramel
1/2 cup of sugar
1/2 cup of water
Method
Soak all the chopped fruits excluding the dates in 4-5 tbsp of rum and brandy for around 2 weeks. Dates are to be added later directly to the cake mixture.
Mix the butter and sugar well until the mixture is light and creamy.
Add the egg yolks one at a time.
In another container beat the egg whites until soft peaks are formed.
In a mixing bowl add flour, spice mix, baking powder and a pinch of salt
Fold in the butter mixture and the egg whites alternatively.
Sprinkle a tbsp of flour to the chopped fruits and mix them lightly.
Add vanilla, almond extract and caramel to the cake batter.
Lastly add all the dry fruits and stir them in.
Place the cake batter in a greased baking pan.
Bake it in a preheated oven at 350 degrees for about 45 mins or until the toothpick inserted in it comes out clean.
Allow the cake to cool and store it for 3 -4 days in an airtight container before serving.
Serve it with a dollop of whipped cream.
Method for Caramel
Combine sugar and water and bring it to a boil on medium heat
Allow it to boil till the color of the liquid turns golden brown
Stir it once in a while.
Take it off the heat when the desired color is obtained
Add it to the cake batter almost immediately and do not allow it to cool off, otherwise it will solidify.