Whole Moong Dosa is the easiest dosa to make. Not only is it easy, it tastes good too. Even if you have never made a dosa in your life, you will be able to make this one. Whole moong is a bean which is very popular in Indian cooking. They are cooked in different ways depending on types of regional cuisines. This is a recipe where you can use whole moong beans to make crepes.
Where can you find whole moong or mung beans?
You can find whole moong in Indian and Asian stores. I have also seen it in Walmart. The best place to find it is on Amazon. You can get it from a wide variety of suppliers.
This bean is considered to be healthy and nutritious. I consider this recipe for whole moong dosa to be healthy because it is completely made of whole moong. There is no added rice in it (therefore eliminating carbs). Also this is probably one of those rare recipes for dosa which does not require fermentation at all. As soon as you have made the batter, you will be ready to form the dosas.
My friend Madhavi had suggested this recipe to me few years back and since then I have made it frequently for breakfast.  If I am feeling lazy then I make it for lunch or dinner too. I also like to pack them for my girls' school lunches. It tastes well at room temperature, so my girls don't mind taking it to school. I sincerely hope you try this out and let me know how it turned out. Enjoy!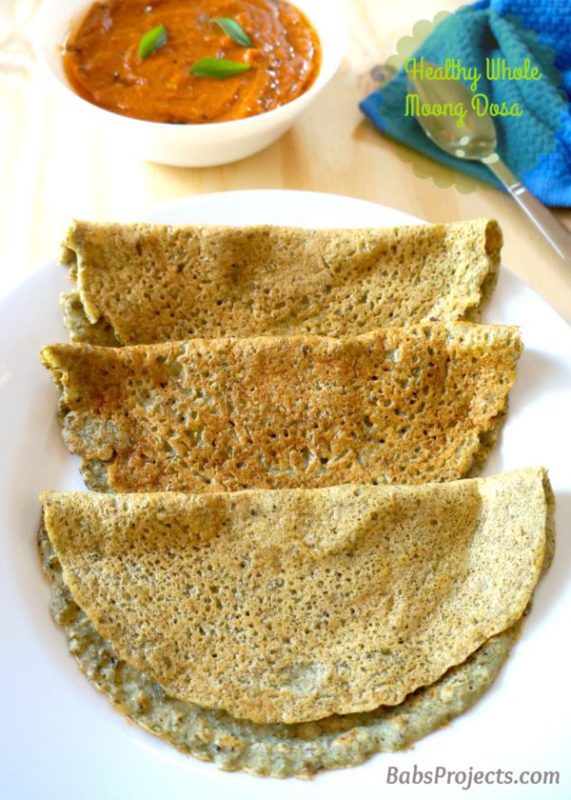 Ingredients:
3 cups of whole moong (mung beans)
2 tsp cumin
salt to taste
water as required
Preparations:
Rinse and clean whole moong and soak it water for three hours.
Drain the water. Add moong into a blender/mixer with about 1 1/2 cups of water and grind it to batter consistency. You can add more water if required.
Transfer this batter into a mixing bowl. Add cumin, salt and mix it properly.
Heat a non-stick griddle. Apply few drops of oil on the griddle and spread it with a paper towel.
When the griddle is hot, pour a spoonful of batter in the center and spread it outward in circular motion.
Lower the heat to medium and cover the griddle with a lid for couple of seconds.
Remove the lid and flip the dosa over and allow it to cook for few more seconds.
Once both sides are done, fold it in half and remove it from the griddle.
Serve hot with some tomato chutney (recipe coming soon) on the side.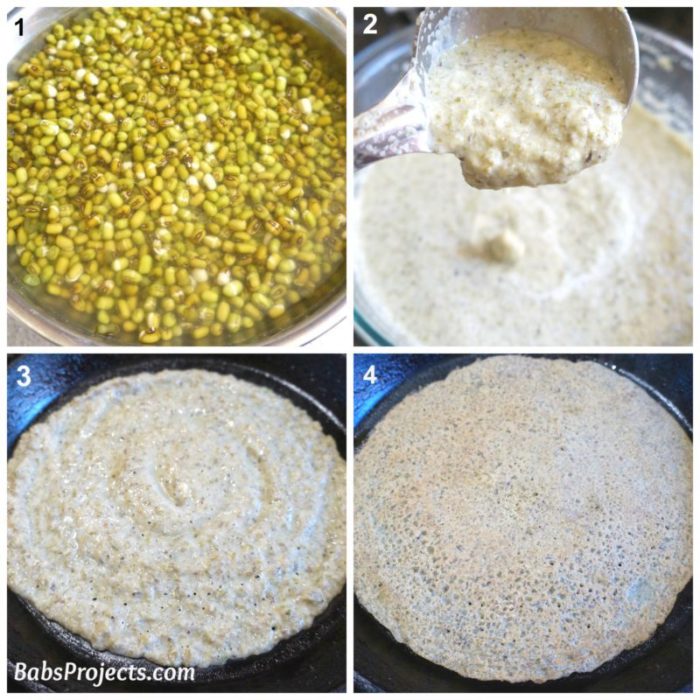 Like I mentioned before Whole Moong Dosa is the quickest dosa to make. Not only is it quick to make, but also is a good source of protein and fiber.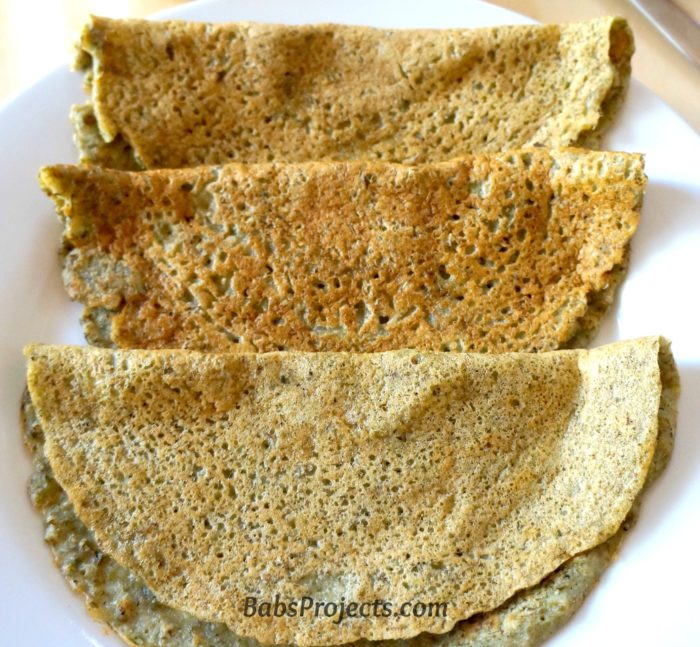 Useful suggestions:
You can add chopped green chilies to the batter if you want to make it spicy.
If you want to make it super nutritious then use sprouted whole moong beans.
I paired this dosa with tomato chutney because it taste great with the tangy chutney. However, you can serve it any chutney of your choice.
You can also soak moong ahead of time, freeze and use it when required.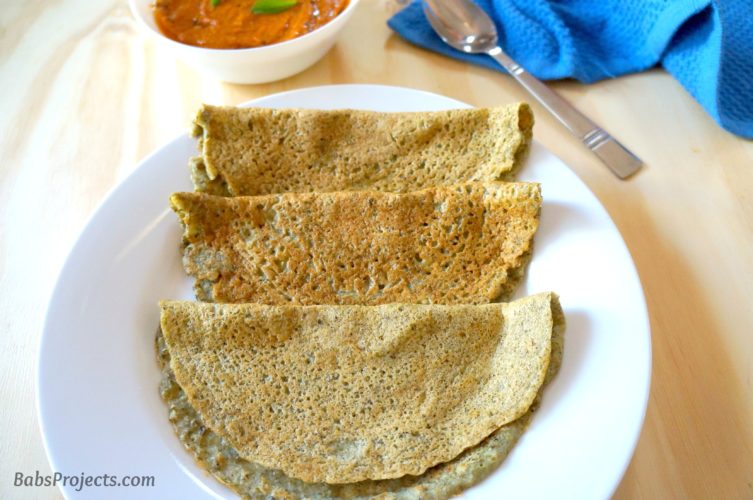 Many of my Indian readers have asked me what kind of pan I use to make dosa/crepe. I use th 10″ Calphalon hard anodized non-stick griddle similar to the image below:
Calphalon Contemporary Hard-Anodized Aluminum Nonstick Cookware, Square Griddle Pan, 11-inch, Black
This pan is perfect for dosa. You can use it with or without oil depending on the recipe. It has three layers of nonstick coating which allows for easy release of dosa from the pan. It's heavy-gauge aluminum construction allows even heating and is hard-anodized for durability. It also makes it dishwasher-safe.
The stainless steel handles are designed to stay cool on the stove top, which is perfect for making something like Neer Dosa where you have to manipulate the crepe by holding the handle and moving the batter around the pan.The large, flat surface allows for maximum cooking area and you can make a big size dosa or a smaller one as per your preference.
Disclosure: This post contains an affiliate link