This recipe for Pineapple Chutney is perfect for those pineapples, which look good and ripe on the outside, and the inside  is nothing but sour and hatefully tangy. I hate eating those and I know you must hate it too.
During one such occasion when I was expressing my frustration, my dear friend Madhavi gave me this recipe. Thanks to her I make this recipe every time I end up buying such a type of pineapple.
Pineapple chutney is actually more of a preserve. I personally serve on the side, or some times during breakfast over toast. The list of ingredients for this recipe is pretty small and that is what makes this recipe so remarkably easy. Enjoy!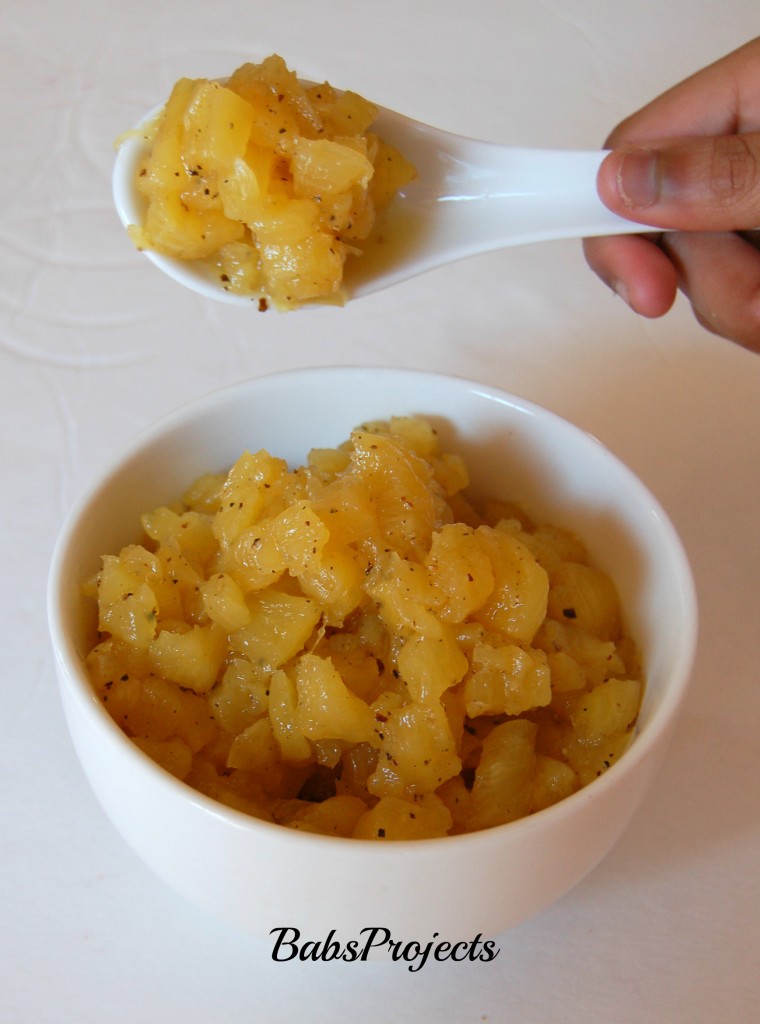 Ingredients:
3 cups finely chopped fresh pineapple
3/4 cup sugar
1/4 tsp freshly ground black pepper
Preparations:
Combine pineapple, sugar and black pepper in a sauce pan.
Cook it on medium heat for around 35 minutes or until all the liquid has been absorbed.
Allow it to cool. Pack it in an airtight container and refrigerate it.
Useful suggestions:
If you want the pineapple chutney to be a tad bit spicier you can add 3/4 tsp of black pepper instead of 1/4 tsp.
You can also adjust the sweetness by adding or reducing the amount of sugar.