Guava Pastry Bites is my version of Pastelitos – a Cuban baked puff pastry filled with sweet or savory fillings. Traditionally Pastelitos fillings include cream cheese and guava paste, pineapple and coconut. My neighbor Natalia told me about this recipe few years back and I have been making it since then. I have a sweet tooth, so I make them with only guava paste and exclude cream cheese completely.
Guava Pastry Bites are easy to make. There is not much prep work to it which I like. All you need is guava paste and puff pastry sheets and that's it. It is very simple and you end up with a  delicious treat. Even though the guava paste is sweet it has a slight tangy taste to it, which I feel balances out the flavor. You can find guava paste in Walmart, Farmer's Market and supermarkets like ShopRite. If you have difficulty locating them, you can always check out Amazon (click below) and you will find different brands of them.
Goya Guava Paste, 21 Ounce
Guava Paste (Pasta De Guayaba) – 14oz
Guava Paste, Pasta De Guayaba, 16oz
For this recipe I used Goya Guava Paste (Pasta de Guayaba), but I have used other brands in the past and they have all turned out great. The other thing that I like about the recipe is that it is very versatile. You can shape the pastry any way you like. You can cut it into squares, rectangles, triangles or even circles and make it big or small. You can go crazy with any kind of cookie cutter you have. Since my daughter had misplaced my round cookie cutter, I decided to use the flower one. I have to say I liked how the pastry turned out. Enjoy!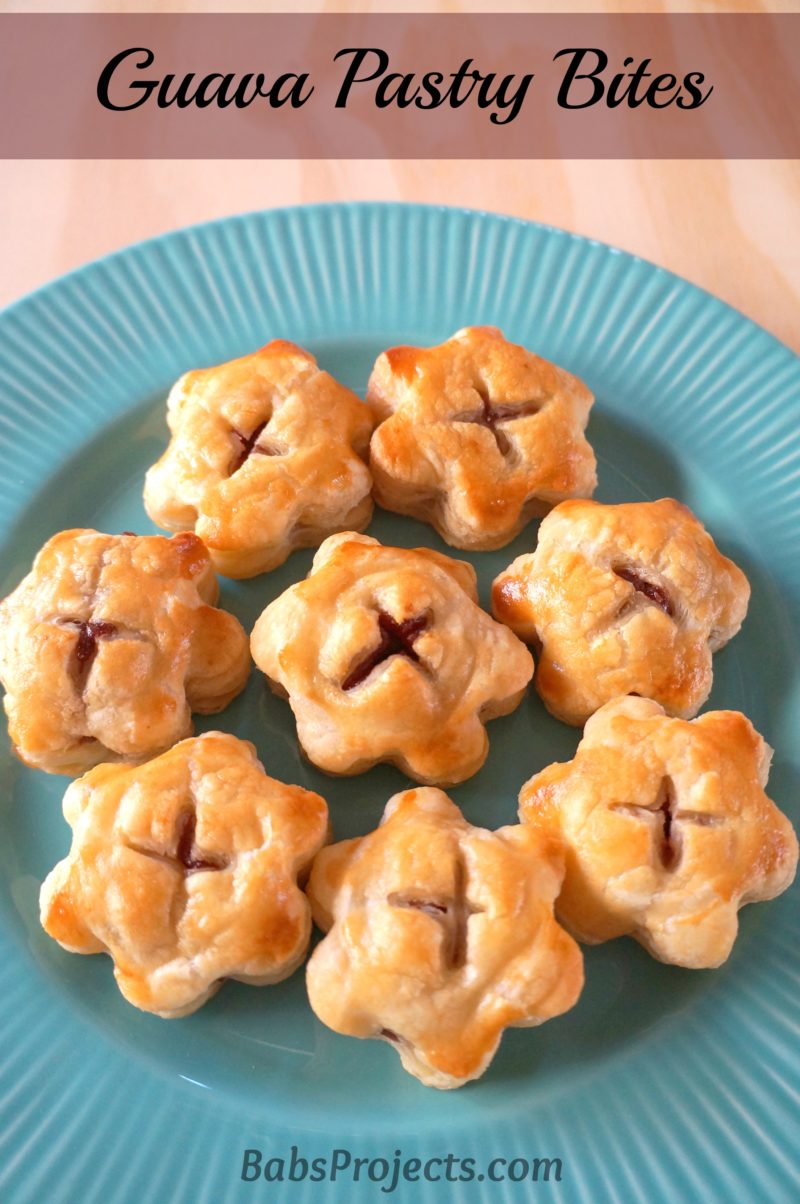 Ingredients:
1 packet puff pastry sheets
1 pack/container of guava paste
1 egg (optional)
Preparations:
Remove the guava paste from its package and cut it into thin slices and set aside.
Remove the puff pastry sheet from it's package and roll it out on a floured surface.
Use a cookie cutter to cut shapes on the pastry sheets.
Take one piece of cut up puff pastry shape. Fill the center with smaller pieces of guava paste. With you fingertip lightly apply water on the edge of the puff pastry shape. Cover it with another piece and press the edges together to completely close it. Place it on a cookie sheet.
Make small cuts in the center.
Repeat this process until you have used up all of the sheets.
In a bowl beat one egg with 1 tbsp of milk. Apply this egg wash on top of the bites. (This step is optional).
Preheat oven to 400°.
Bake these bites for 20 minutes until you see the top has turned golden brown.
Serve it warm.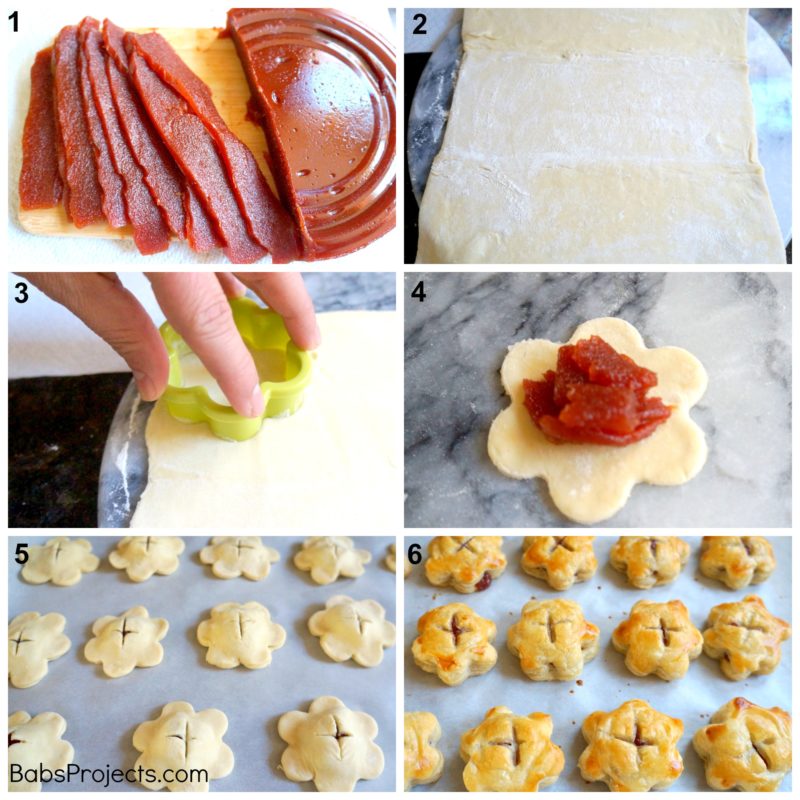 As you can see below, once baked the guava paste turns soft and gooey. The crispy texture of the puff pastry with the soft guava paste in the center is amazingly delightful.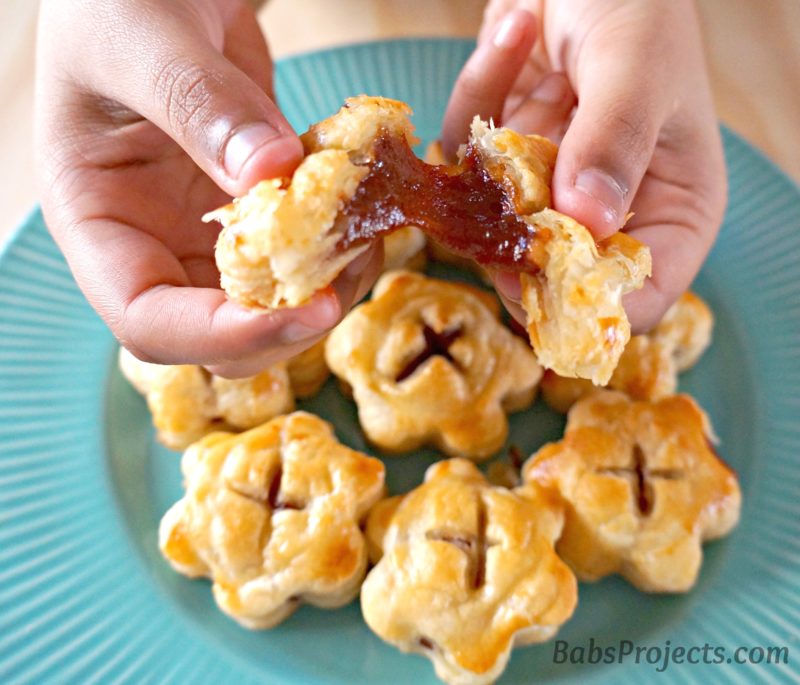 Useful Suggestion:
I used egg wash on top of the guava pastry bites to get the beautiful golden brown color. If you are vegetarian and prefer not to use egg, then you can use plain milk and brush it on top of these bites before you pop it into the oven.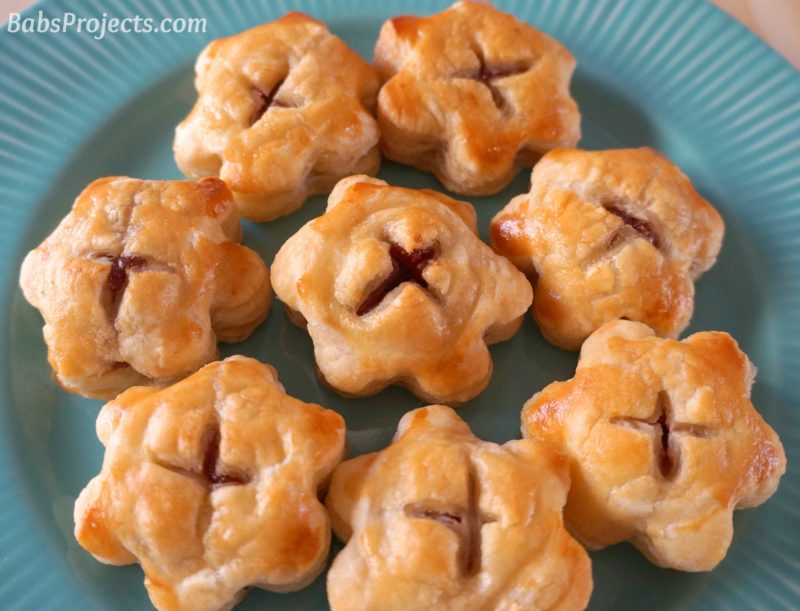 Disclosure: This post contains affiliate links .